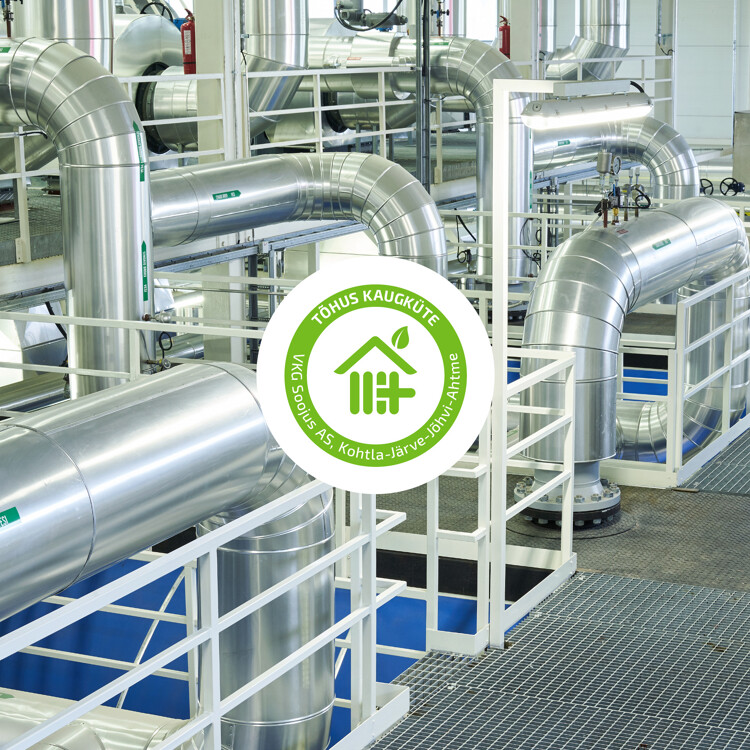 The distribution network of VKG Soojus was recognised with the Efficient District Heating label
This year, the Estonian Power and Heat Association (Eesti jõujaamade ja kaugkütte ühing) recognised the entire distribution network of VKG Soojus with the Efficient District Heating label.
The Efficient District Heating label certifies and recognises the efficiency of a district heating system and the majority of co-generated heat in the district heating system. The label informs consumers of the efficiency of the district heating system and highlights district heating as an efficient, environmentally sustainable, reasonably priced and convenient way of heating. In addition, the district heating networks recognised with the label also meet the requirements established in the EU Energy Efficiency Directive 2012/27/EU.
According to Andres Klaasmägi, Member of Board of VKG Soojus, the label also makes the life of the owners of buildings easier, as it means that the efficiency of district heating has already been determined and can be used in assessing the energy efficiency of buildings.
"VKG generates heat from shale gas produced upon processing oil shale, which is clearly a very efficient and environmentally sustainable way of generation. We are happy that VKG Soojus now has the Association's official recognition which will make life easier for both us and our customers," Klaasmägi added ".
Siim Umbleja, Managing Director of the Estonian Power and Heat Association, said that it is very reasonable to generate heat by using the waste heat produced in the production process of an industrial enterprise, just like VKG is doing. "With the label, we wish to highlight district heating as an environmentally sustainable and modern heating supply system which meets all the energy efficiency requirements. The label also allows increasing the consumers' awareness and interest in the fuels used for generating heat;" Umbleja explained.
The Efficient District Heating label is awarded to a district heating system for five years and the enterprise that has received the label has to prove its conformity with the label requirements at least once a year.
VKG Soojus AS is a network enterprise engaged in the distribution and sales of heat in the region of Ahtme–Jõhvi and in Kohtla-Järve. The enterprise supplies heat to a region of more than 30,000 residents.