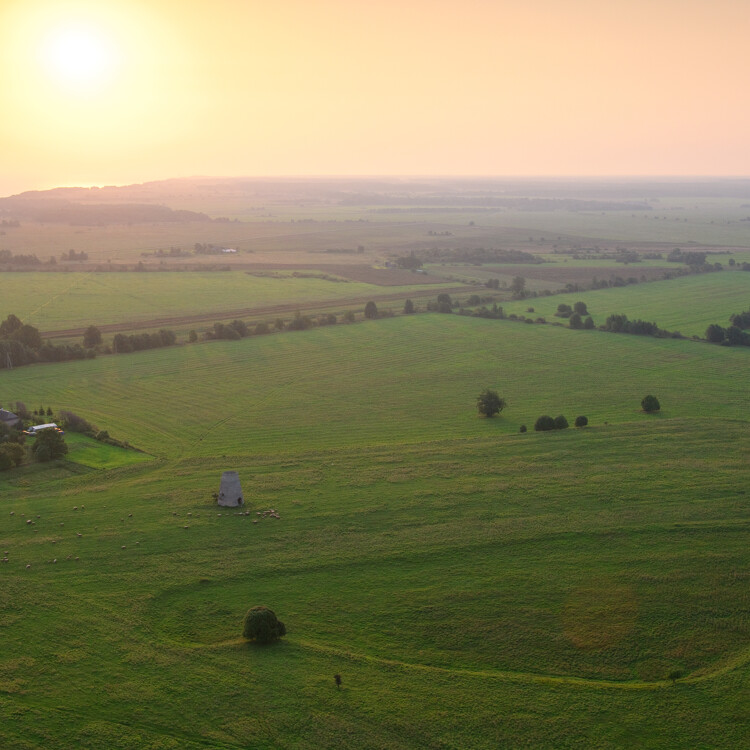 Social responsibility
We act responsibly, taking into account the needs and interests of our employees, the local community, customers and interest groups.
For the natural environment
Our priority is to eliminate or minimise the negative impacts of our industry. We aim to demonstrate that a large industry can be responsible, eco-friendly, and use resources with maximum efficiency.
Production that adheres to all norms
We base our business activities on EU and Estonian climate policies and other regulations established until 2050
We actively address the residual pollution dating from the Soviet era in our immediate vicinity. Residual pollution from the past has left a mark on the oil shale industry as a whole. Thanks to a balanced approach and significant investment, modern production can be kept sustainable by adhering to heightened expectations, and we aim to set a good example.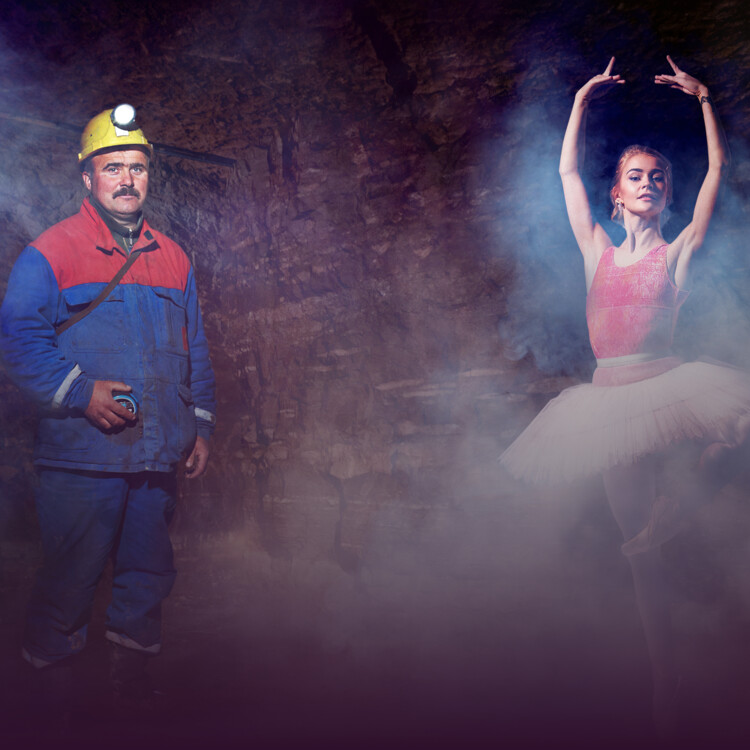 We support selected activities to create special value in them. We support the sustainability and development of the Ida-Virumaa region and the improvement of the lives of its people. We focus on children and young people, striving to give them the opportunity to develop their talents, achieve outstanding results and experience success.
Our Biggest Initiatives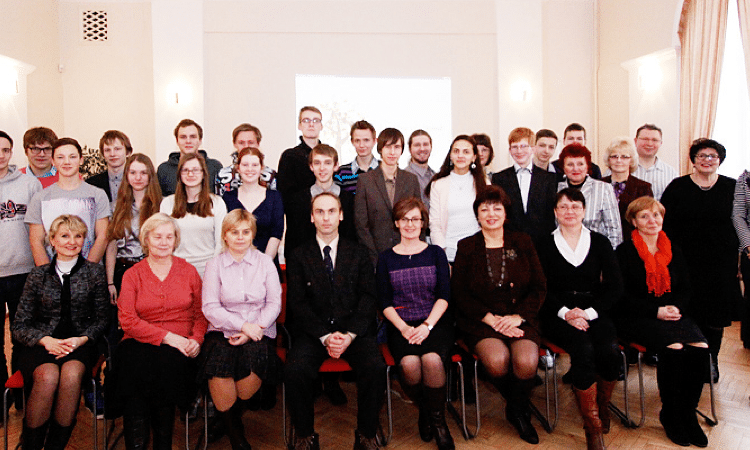 Five School Competition
A VKG initiative to advance and promote engineering education among young people. Estonia and Ida-Virumaa need good engineers in many different fields. Our group is interested in ensuring that future specialists receive a solid foundation in sciences at school. We are glad that, with our support, Ida-Virumaa's students are able to participate actively and successfully in Estonia's most prestigious science competition: the Five School Competition.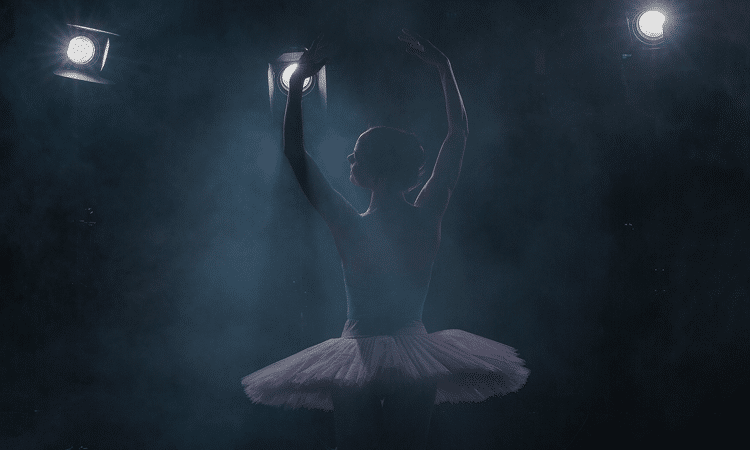 Jõhvi Ballet Festival
It is no exaggeration to call the Jõhvi Ballet Festival the biggest cultural event in the region, and it is still the only internationally renowned Estonian ballet festival. Taking place in Jõhvi, it grants all of us in Ida-Virumaa a rare opportunity to enjoy unique, world-famous ballet performances right at home. Virumaa has been known as the land of "Brown Gold" for a long time, but the festival has made us famous as a ballet area. The ballet festival knows no stereotypes! We are proud to be partnered with this event. The fruitful collaboration between the group and the festival's organiser, the Jõhvi Concert Hall, has lasted for several years so far.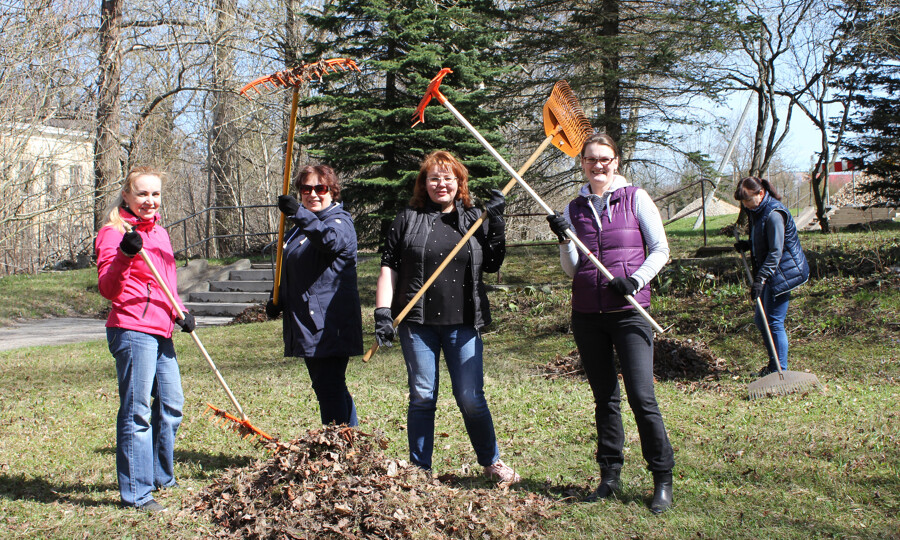 Promoting Charity among Employees
We offer our employees opportunities to take part in charities and involve them in various initiatives. We are a good partner to the local blood centre. The blood centre organises visits to VKG and its subsidiaries multiple times a year. We also take part in tree-planting and clean-up days.
Maintaining the Traditions of the Industrial Area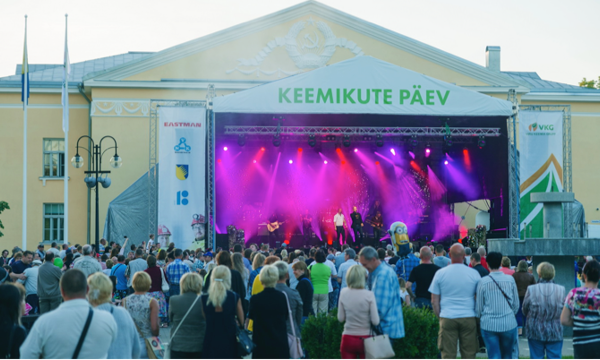 Chemical Scientists' Day
A VKG-led folk party organised in collaboration with the region's major chemical industry enterprises: Eastman Specialties and Novotrade Invest. The tradition dates back to 2000.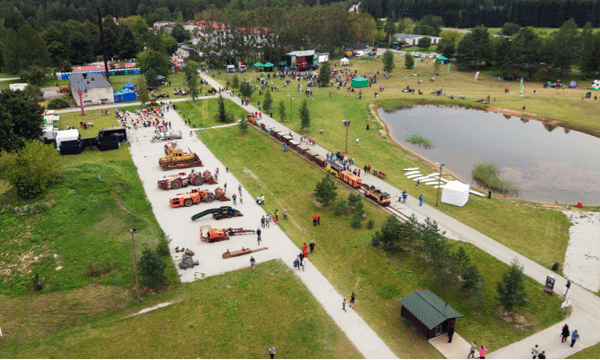 Miners' Day
A time-honoured tradition we revived in 2011. One of the region's most anticipated folk parties takes place on the last Sunday of August every year. It is our way of paying our respects to all the miners and inhabitants of the region. The Miners' Day festivities have been organised in collaboration with Eesti Energia since 2014, and they have been hosted by the Kohtla-Nõmme Mining Museum since 2016.
Acknowledgements and reporting
Since 2012, VKG has been part of the Responsible Business Forum of Estonia. The goal of this association is to popularise and promote the concept of responsible business in Estonian entrepreneurship and at the national level. We are pleased to report that our contributions and developments have been recognised with the Responsible Business label.
Since 2010, and as the first company to adopt the practice in Estonia, we have published all our environmental, social and economic data as a Social Responsibility and Sustainable Development Report based on the principles and requirements laid out in the internationally recognised Global Reporting Initiative (GRI).
VKG art collection
We value and preserve history.
We are the proud keeper of a unique collection of paintings on the Estonian oil shale industry. Here, you will find paintings from both the VKG private collection and the Oil Shale Museum.
The oil shale industry is captured not only in paintings, but also on banknotes. We are proud that in 1930, the Estonian top artist Günther Reindorff designed a 100-kroon banknote depicting the Kohtla-Järve oil factory behind a blacksmith at work.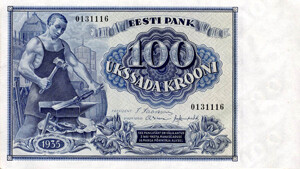 Priidu Aavik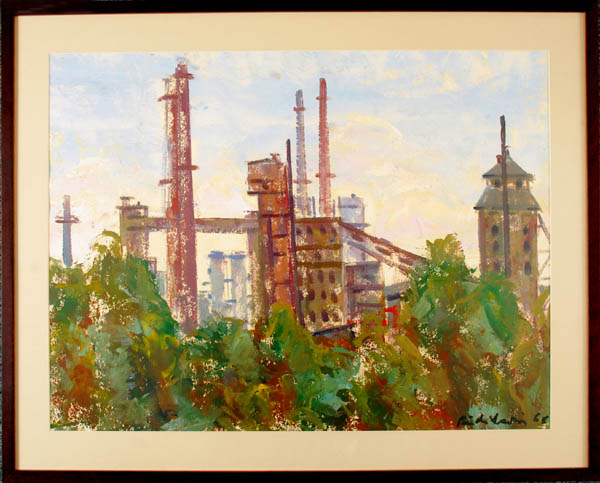 "Kohtla-Järve"
1966
VKG collection
Julius Gentalen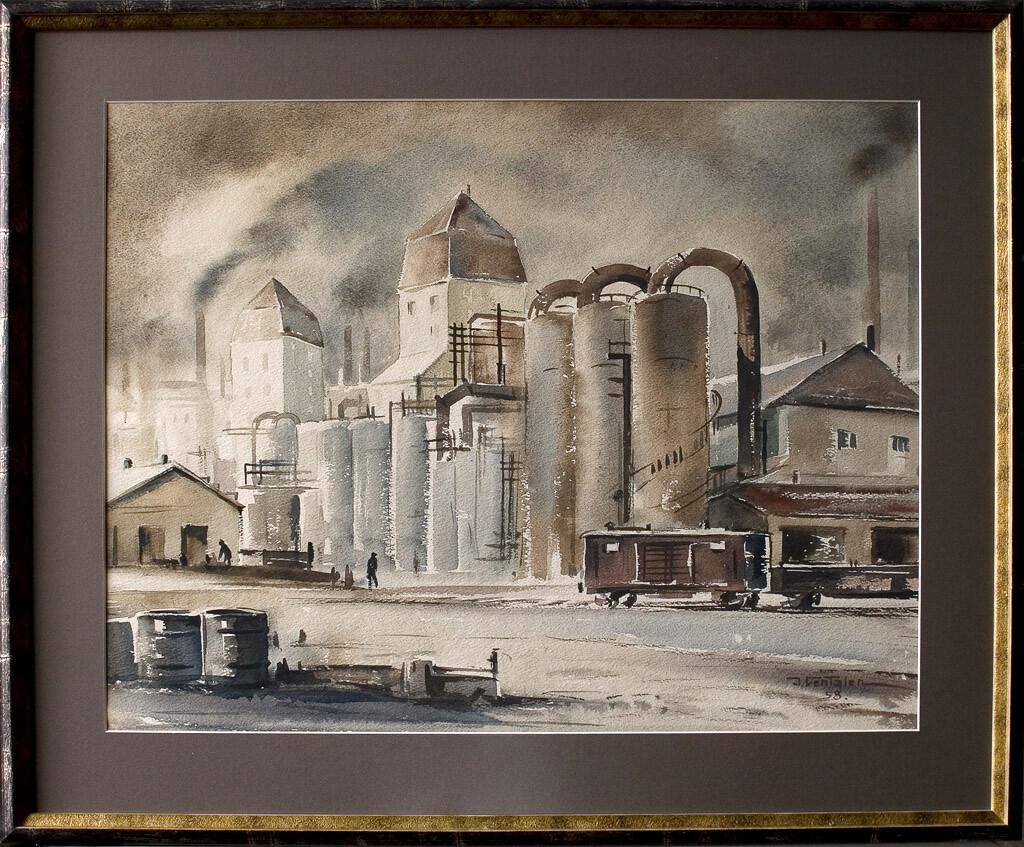 "Kohtla-Järve industry"
Materials: aquarelle, paper
1958
VKG collection
Alo Hoidre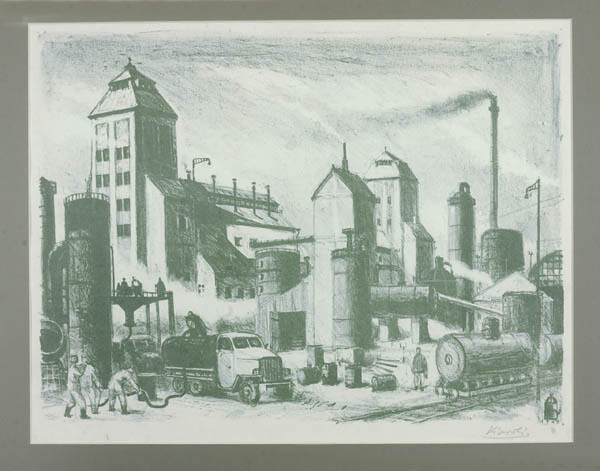 "Kiviõli"
Materials: lithography, paper
1947
VKG collection
Avo Keerend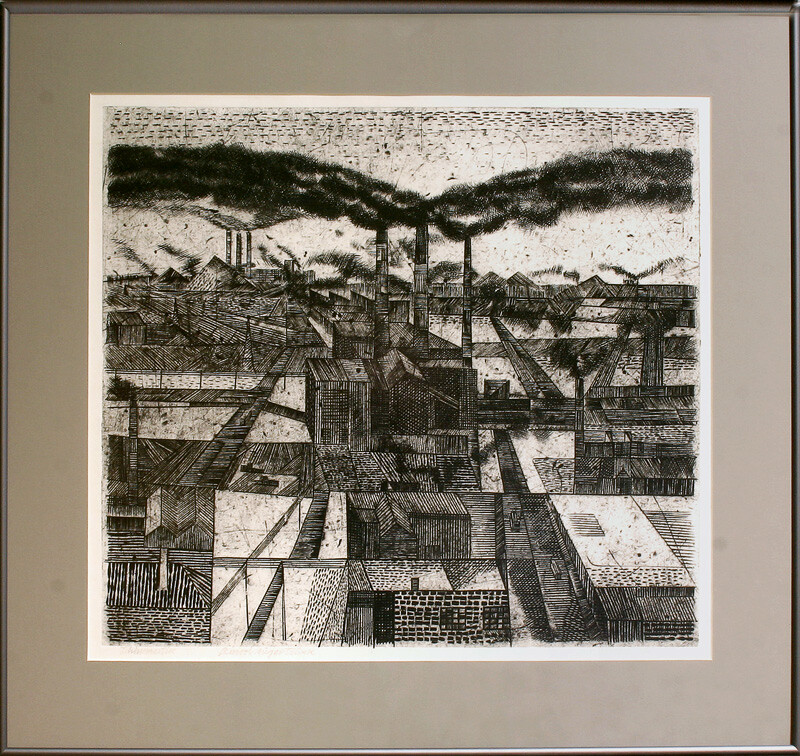 "Artificial landscape"
Materials: gravure printing
1972
VKG collection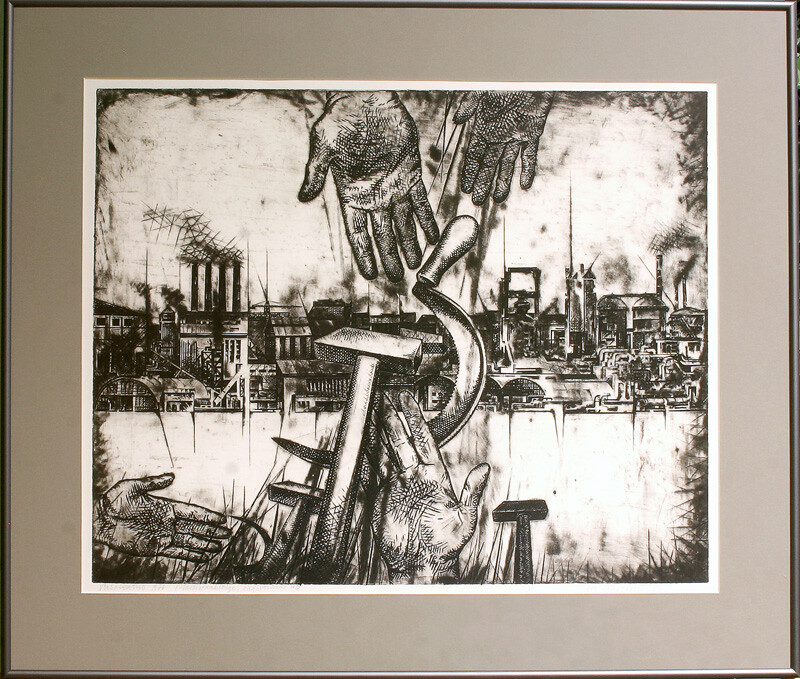 "Vabastatud töö"
Materials: gravure printing
1977
VKG collection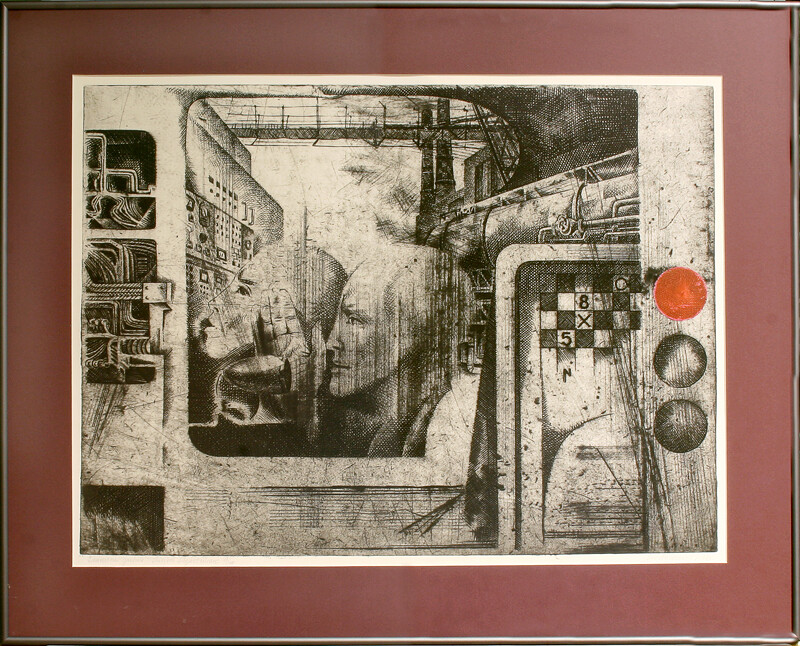 "Inimene juhib"
Materials: serigraphy, paper
1975
VKG collection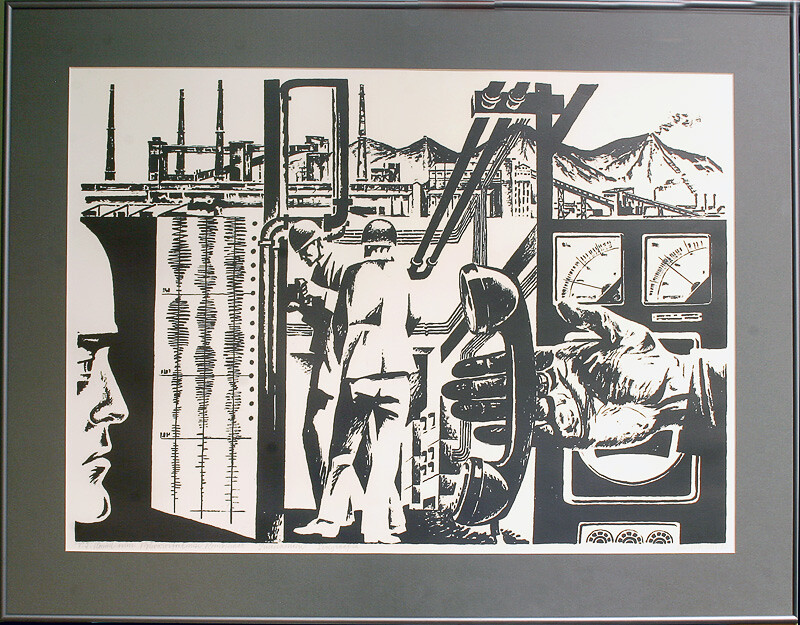 "The V.I. Lenin Oil Shale Processing Plant. Channelling."
Materials: serigraphy, paper
1972
VKG collection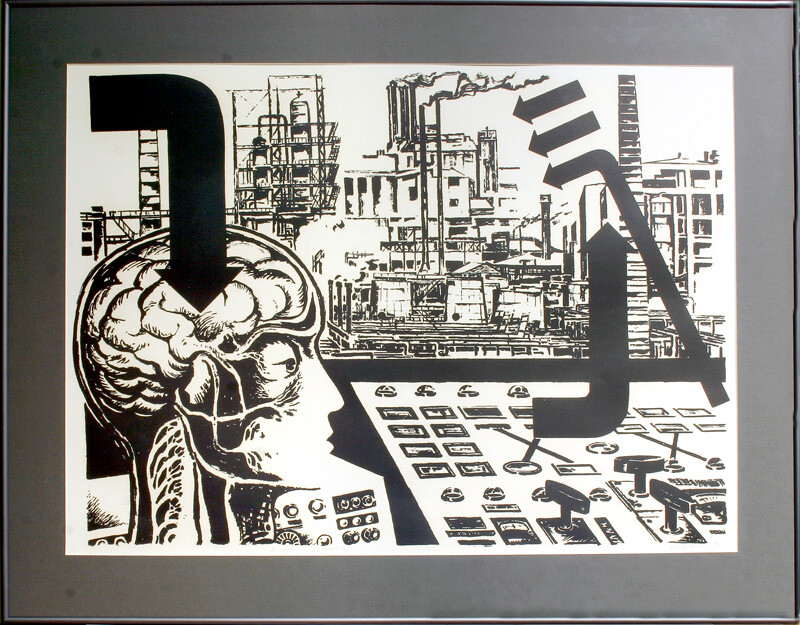 "The V.I. Lenin Oil Shale Processing Plant.
Circulation."
Materials: serigraphy, paper
1972
VKG collection
Ernö Koch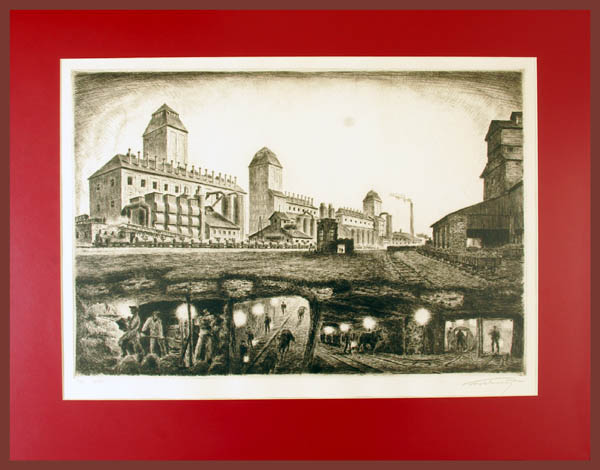 (Composition of the shale oil industry)
Materials: graphics, paper
1938
VKG collection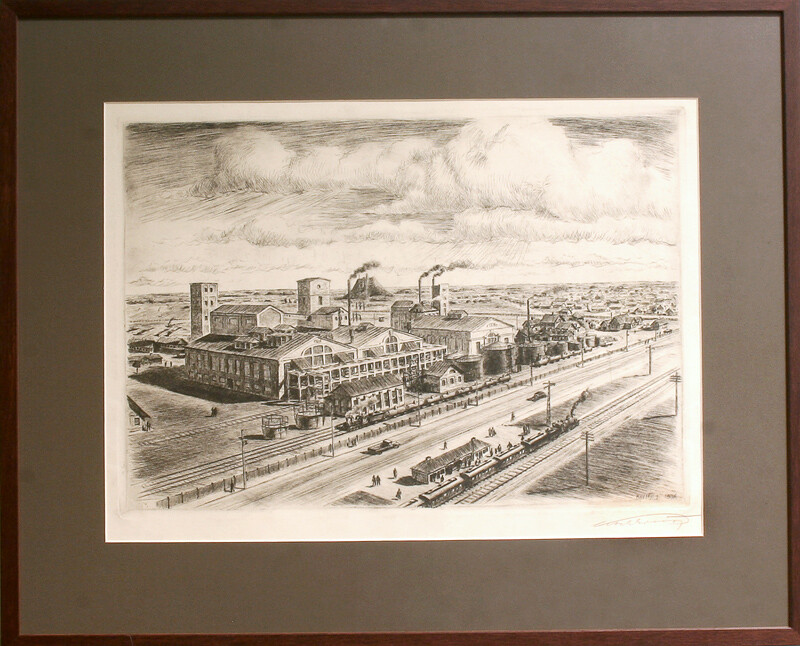 (View of the Kiviõli oil factory)
Materials: graphics, paper
1936
VKG collection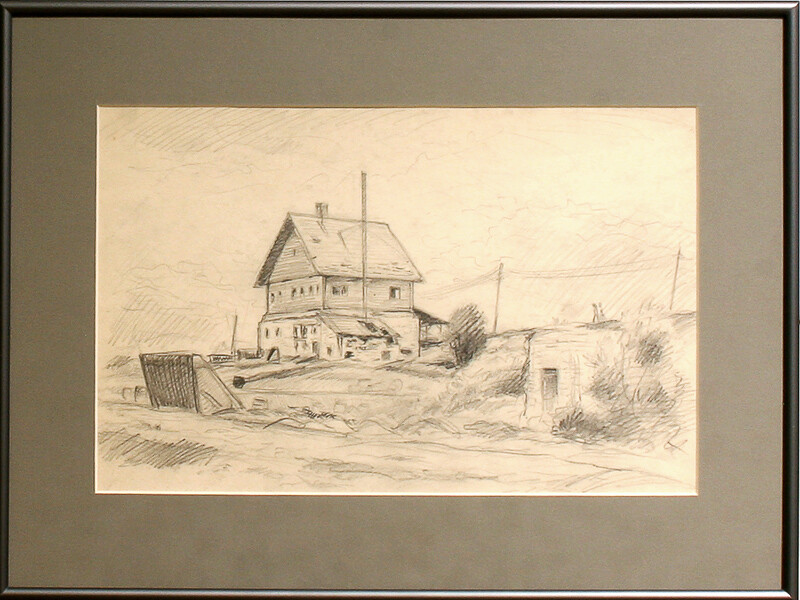 "Old oil factory"
Materials: pencil, paperboard
1936
VKG collection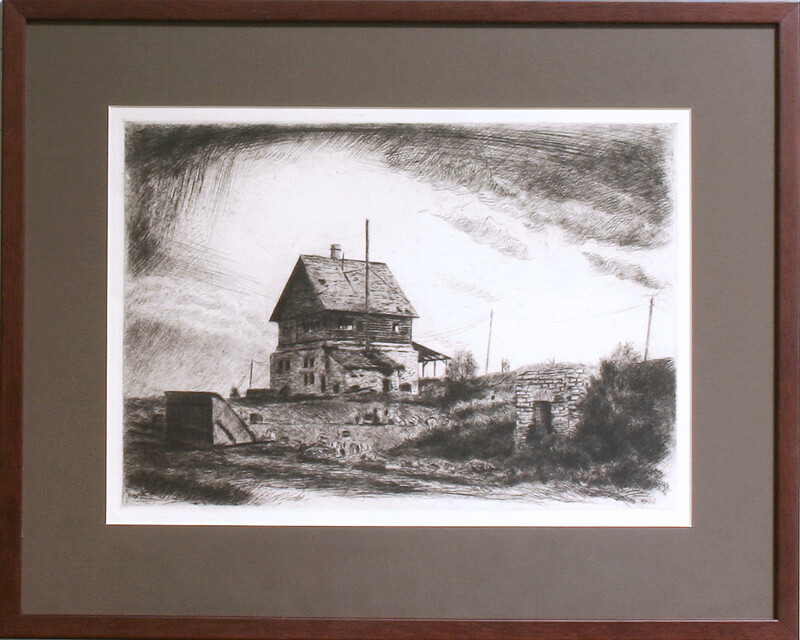 "Old oil factory"
Materials: graphics, paperboard
1936
VKG collection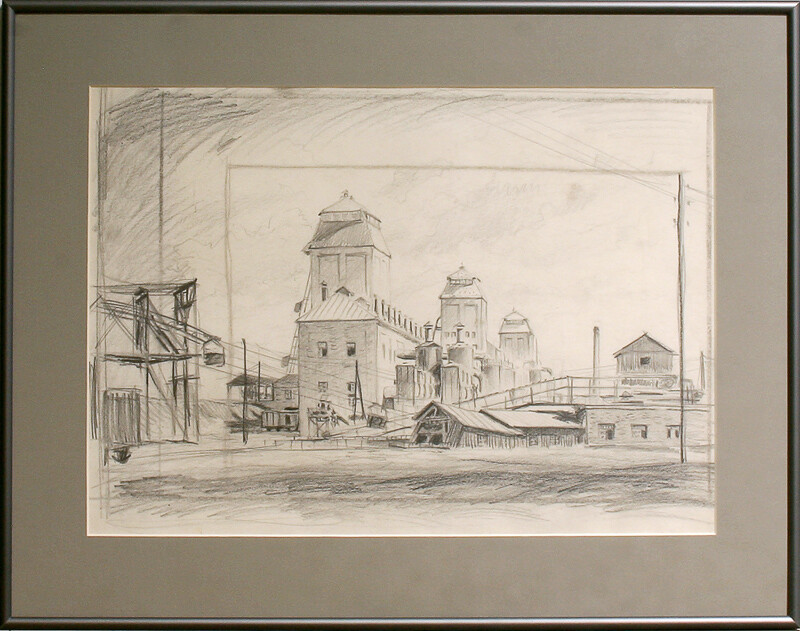 (A/S Esimene Eesti Põlevkivitööstus.
Õlivabrikud Kohtla-Järvel)
Materials: pencil, paperboard
1936
VKG collection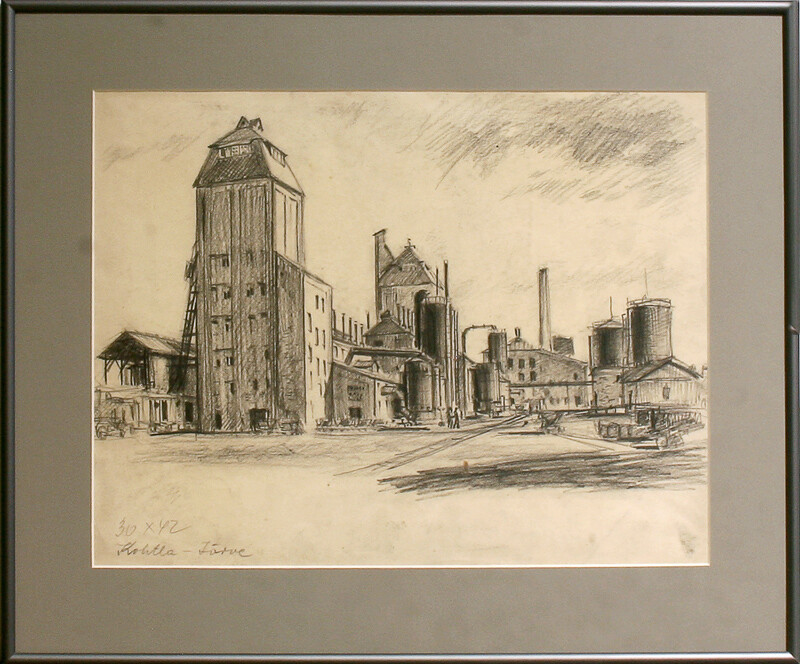 (A/S Esimene Eesti Põlevkivitööstus.
Õlivabrikud Kohtla-Järvel)
Materjal: kuivnõel, paber
1936
VKG collection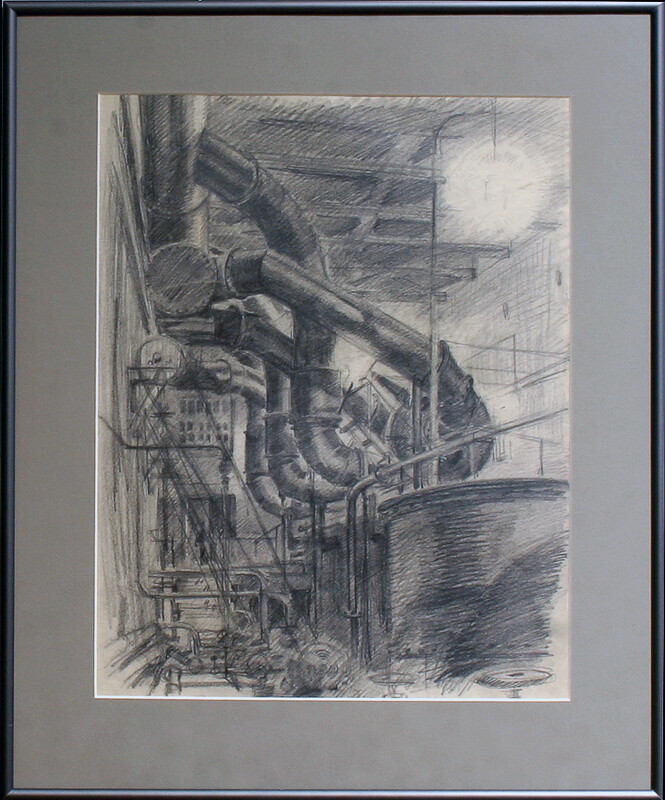 (II õlivabrik)
Materials: pencil, paperboard
1937
VKG collection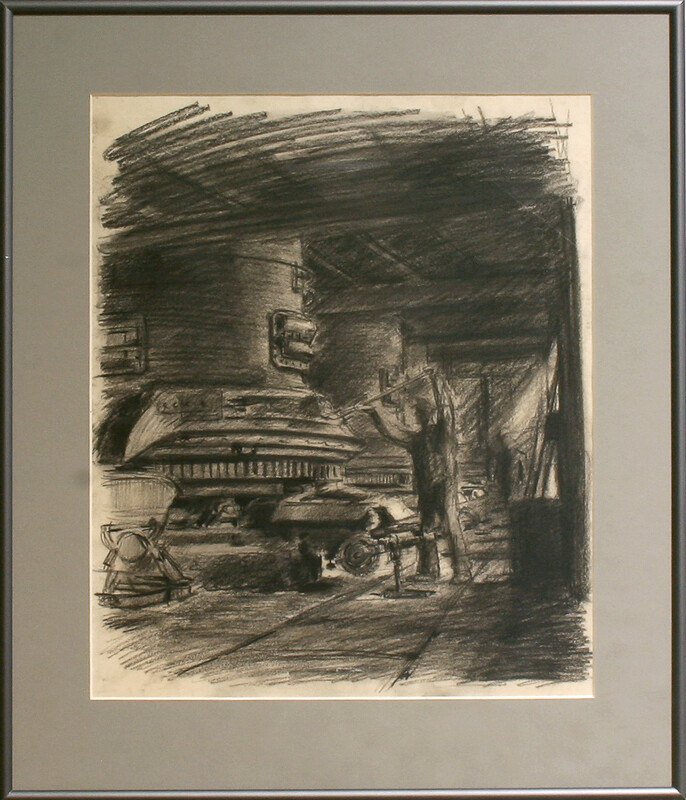 (Õlivabriku sisemus, tuha eemaldamine generaatorist)
Materials: pencil, paperboard
1937
VKG collection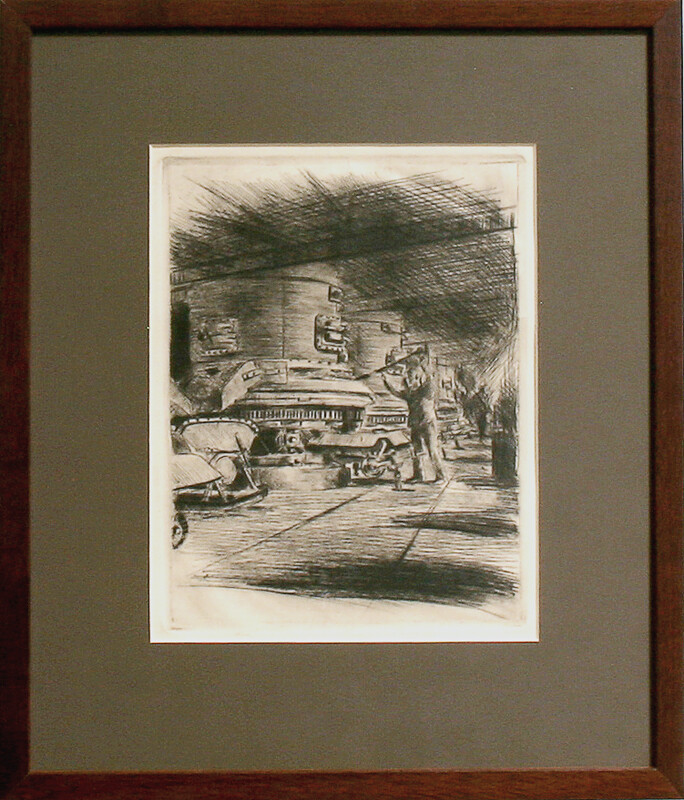 (Õlivabriku sisemus, tuha eemaldamine generaatorist)
Materials: dry needle, paper
1937
VKG collection
(Õlivabriku sisemus, tuha eemaldamine generaatorist)
Materials: dry needle, paper
1937
VKG collection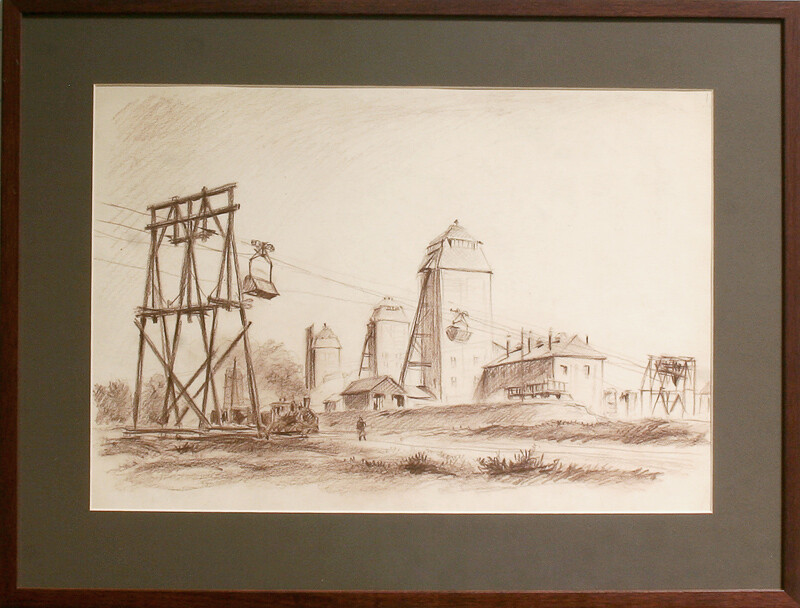 (Köistee)
Materials: pencil, paperboard
1936
VKG collection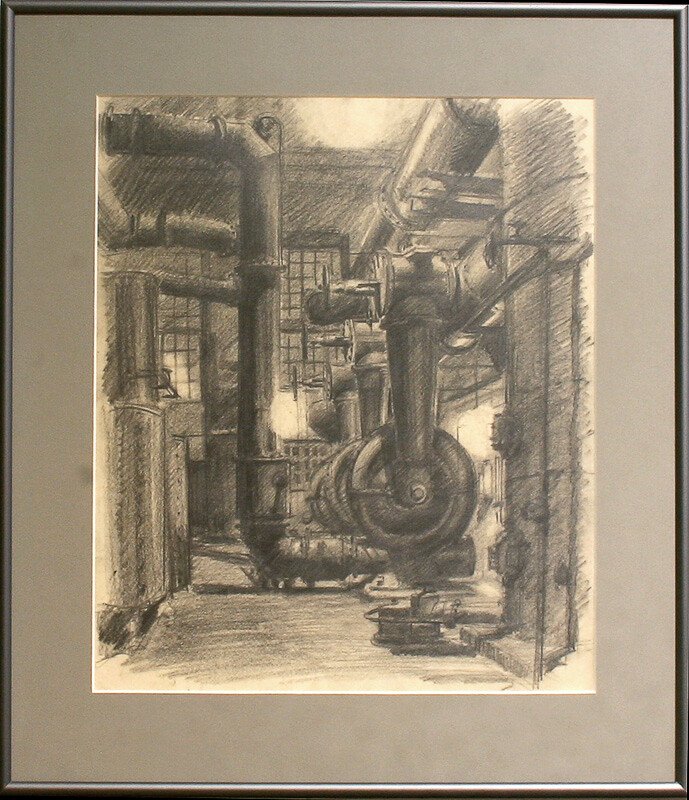 (I vabriku kondensatsiooniruum)
Materials: pencil, paperboard
1936
VKG collection
Nikolai Kormashov
"Kohtla-Järve"
Material: oil, cardboard
1961
VKG collection
"Tehase argipäev"
Material: oil, cardboard
1961
VKG collection
Toivo Kulles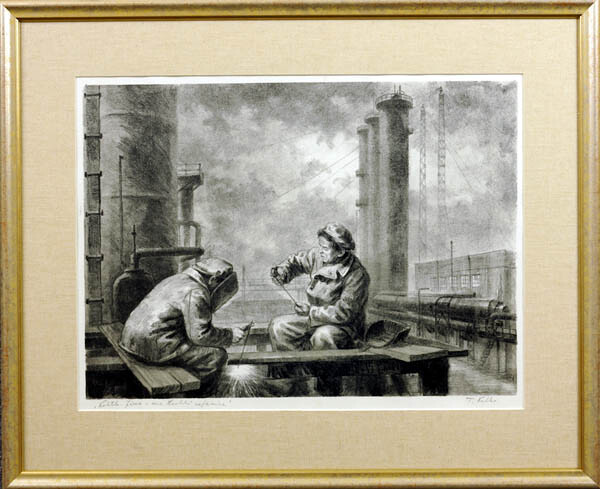 "Welders at Kohtla-Järve"
VKG collection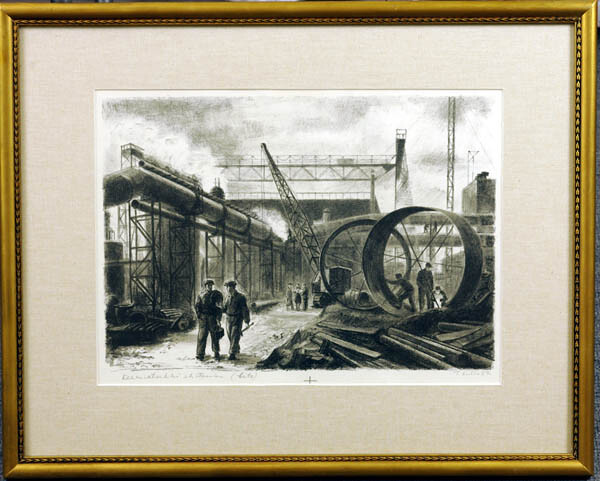 "Industrial landscape from Kohtla-Järve"
1951
VKG collection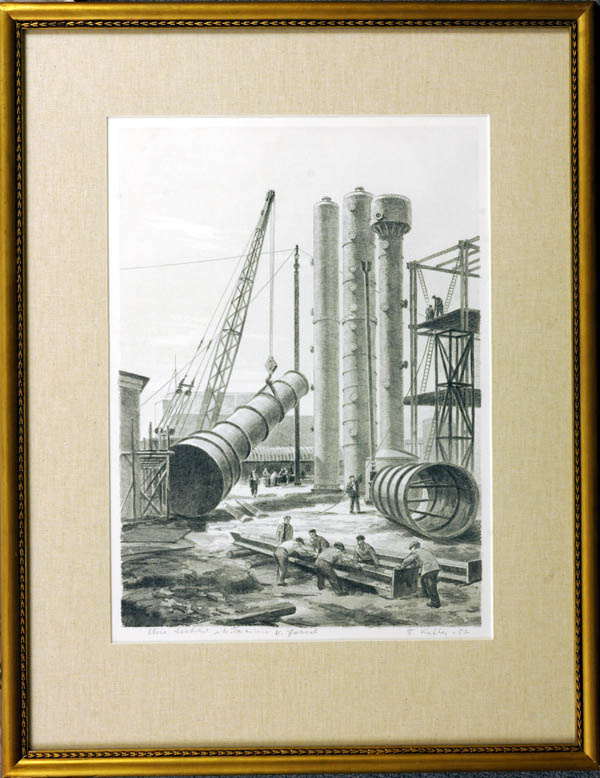 "Construction of chemical plant installations in Kohtla-Järve"
1952
VKG collection
Allex Kütt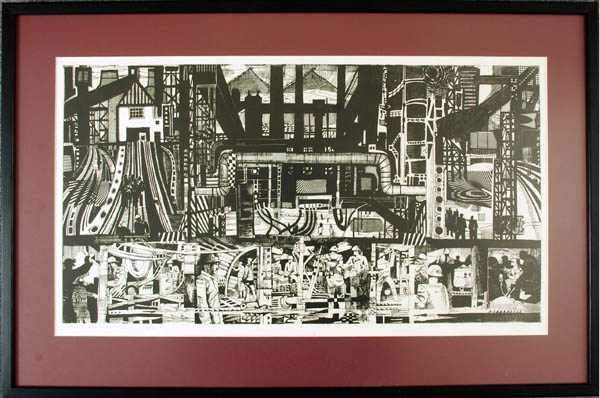 "Shale oil industry"
1970
VKG collection
Arkadio Laigo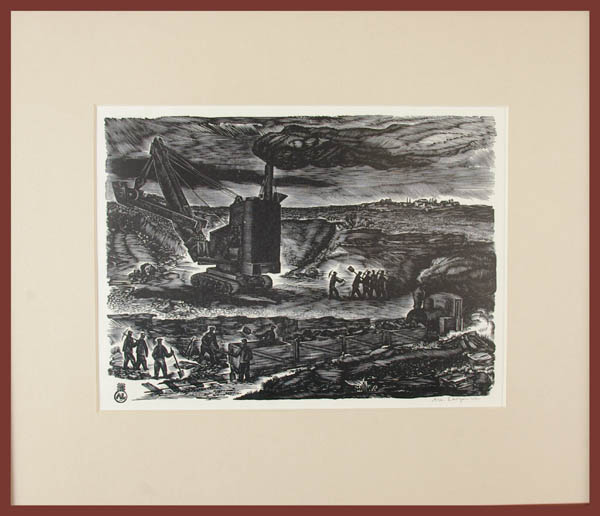 "Work in the quarry"
1944
From the collection of xylographs "Shale oil industry"
VKG collection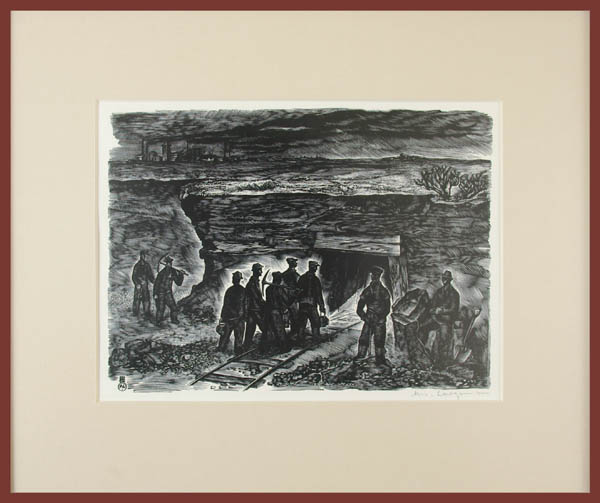 "On the way to work in the mine"
1944
From the collection of xylographs "Shale oil industry"
VKG collection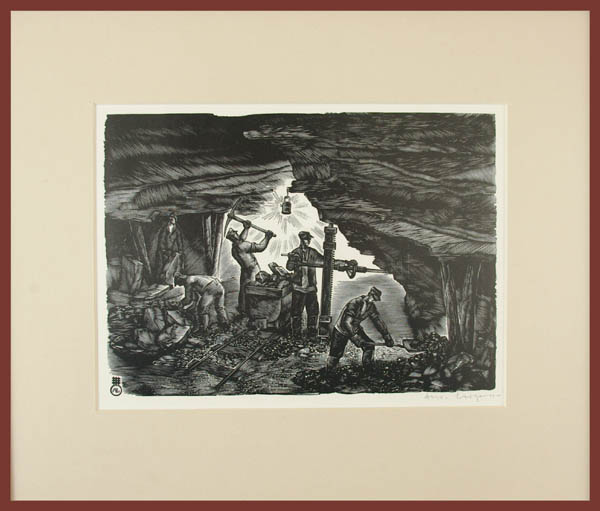 "Work in underground mine"
1944
From the collection of xylographs "Shale oil industry"
VKG collection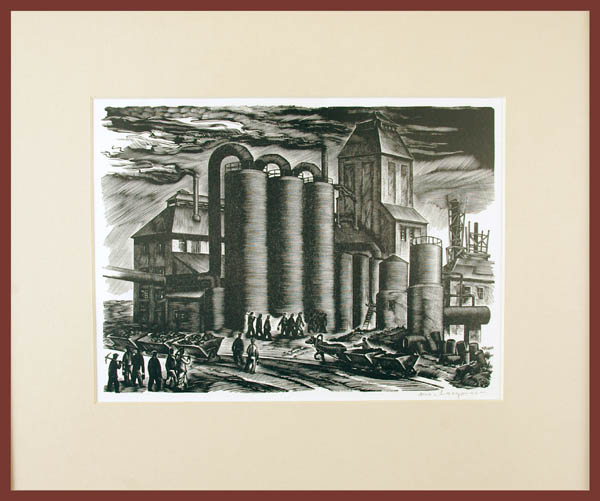 "View of oil factory buildings"
1944
From the collection of xylographs "Shale oil industry"
VKG collection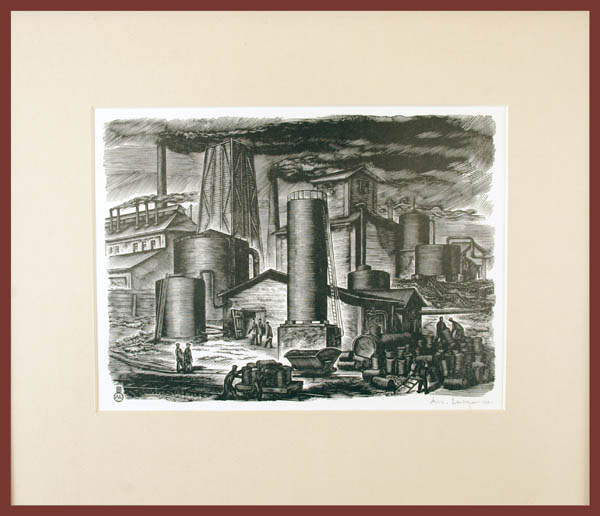 "View of oil factory yard"
1944
From the collection of xylographs "Shale oil industry"
VKG collection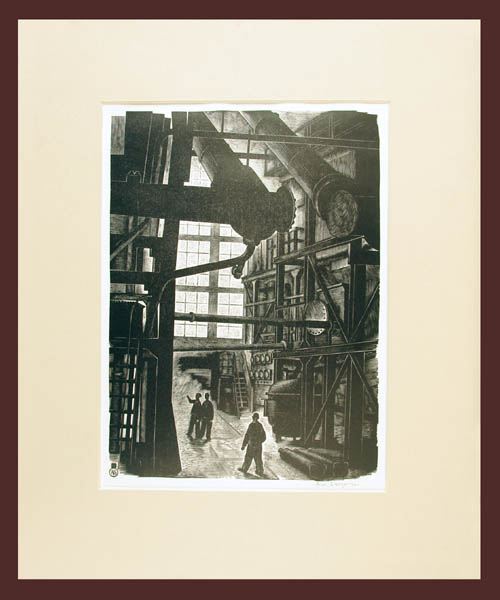 "Interior view of oil factory "
1944
From the collection of xylographs "Shale oil industry"
VKG collection
Hugo Lepik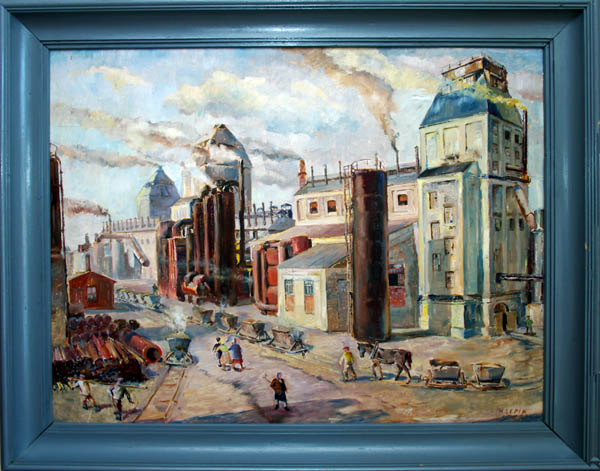 Esko Lepp
"On the construction of the Kohtla-Järve"
1949
VKG collection
Hando Mugasto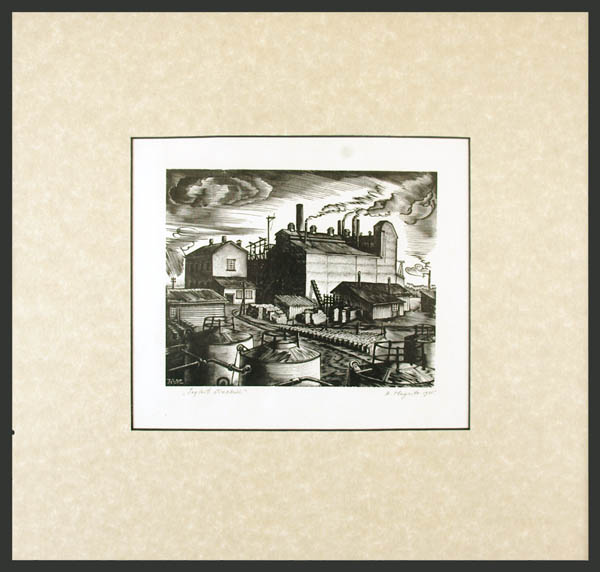 "The English oil factory"
Materials: xylograph, paper
1935
VKG collection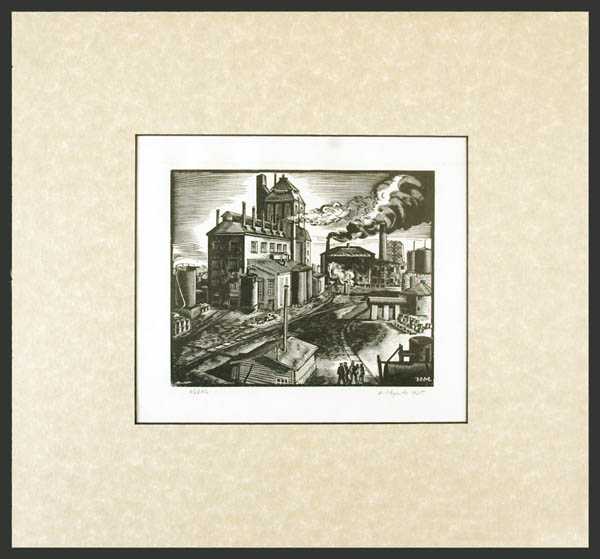 "Kohtla"
Materials: xylograph, paper
1935
VKG collection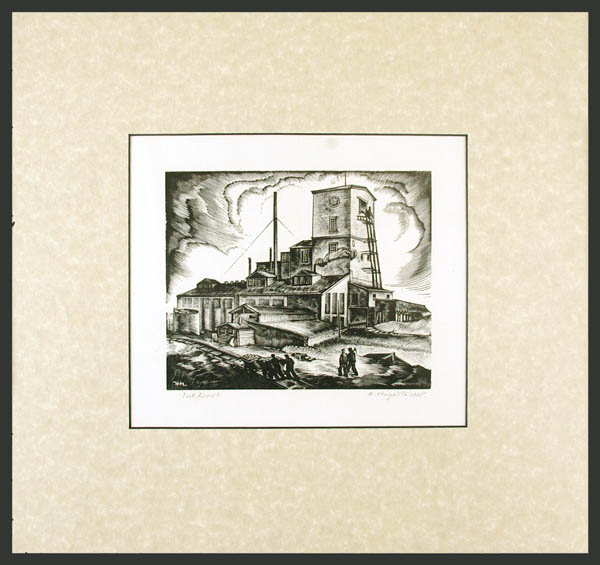 "Eesti Kiviõli"
Materials: xylograph, paper
1935
VKG collection
Leili Muuga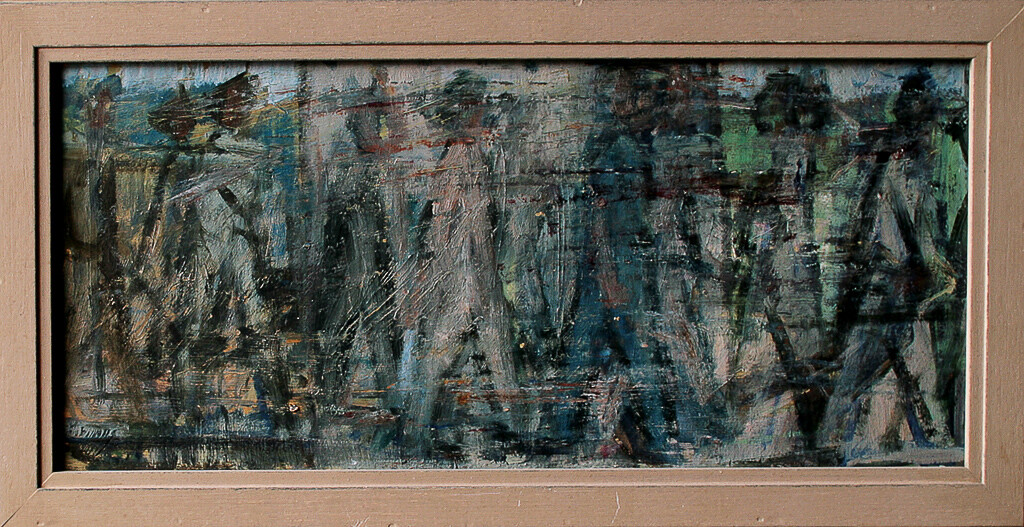 "Kohtla-Järve. Hommikune tööleminek"
Materials: oil, cardboard
1966
VKG collection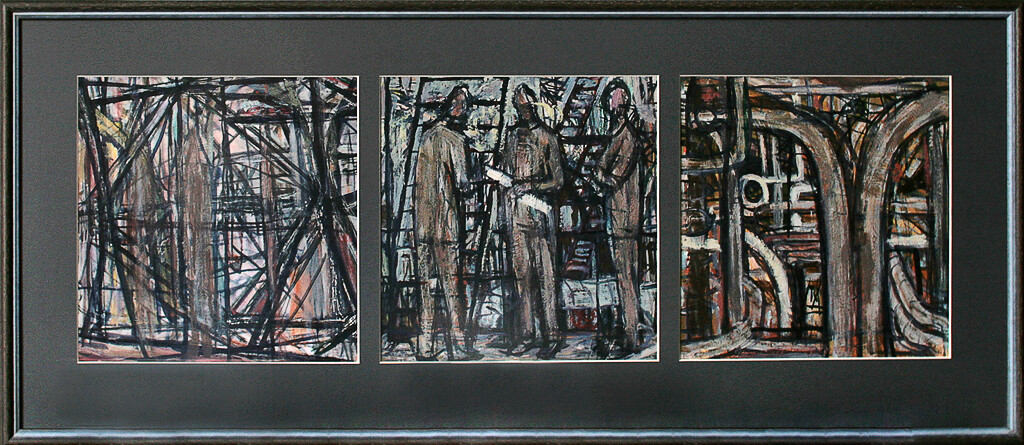 "Chemistry"
Materials: oil, cardboard
1966
VKG collection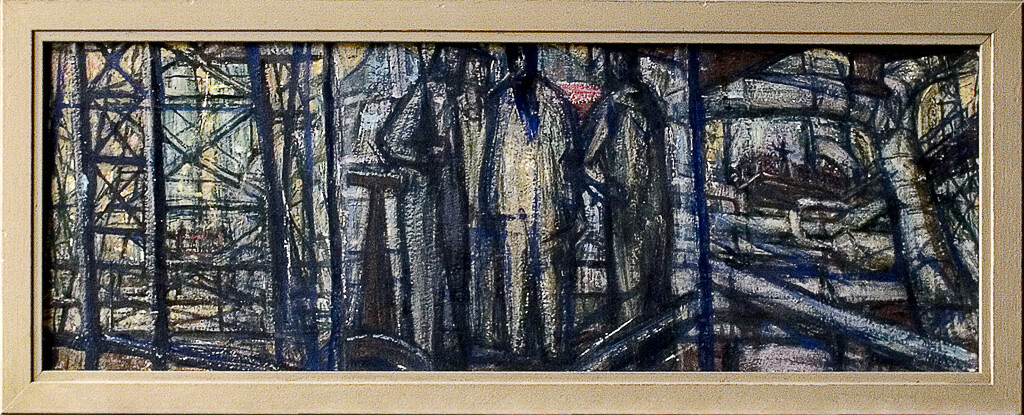 "Chemistry"
Materials: oil, cardboard
1966
VKG collection

"Kohtla-Järve. Ach hills."
Materials: oil, paper
1966
VKG collection

"Kohtla-Järve. Interior."
Materials: oil, paper
1966
VKG collection
Valdur Ohakas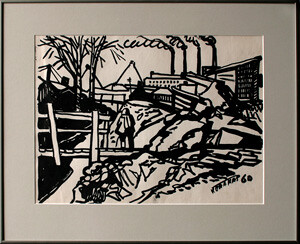 Materials: Indian ink, paper
1960
VKG collection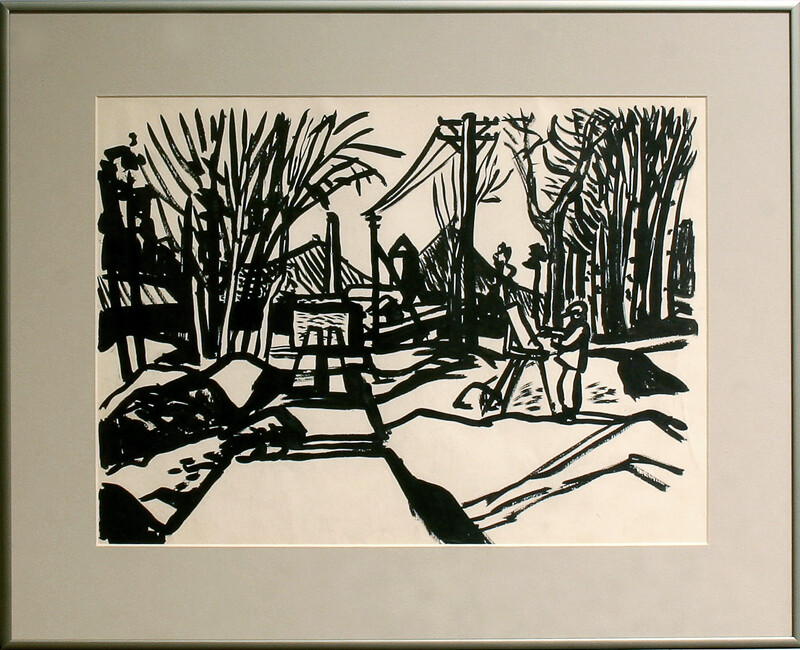 Materials: Indian ink, paper
1960
VKG collection
Aleksander Pilar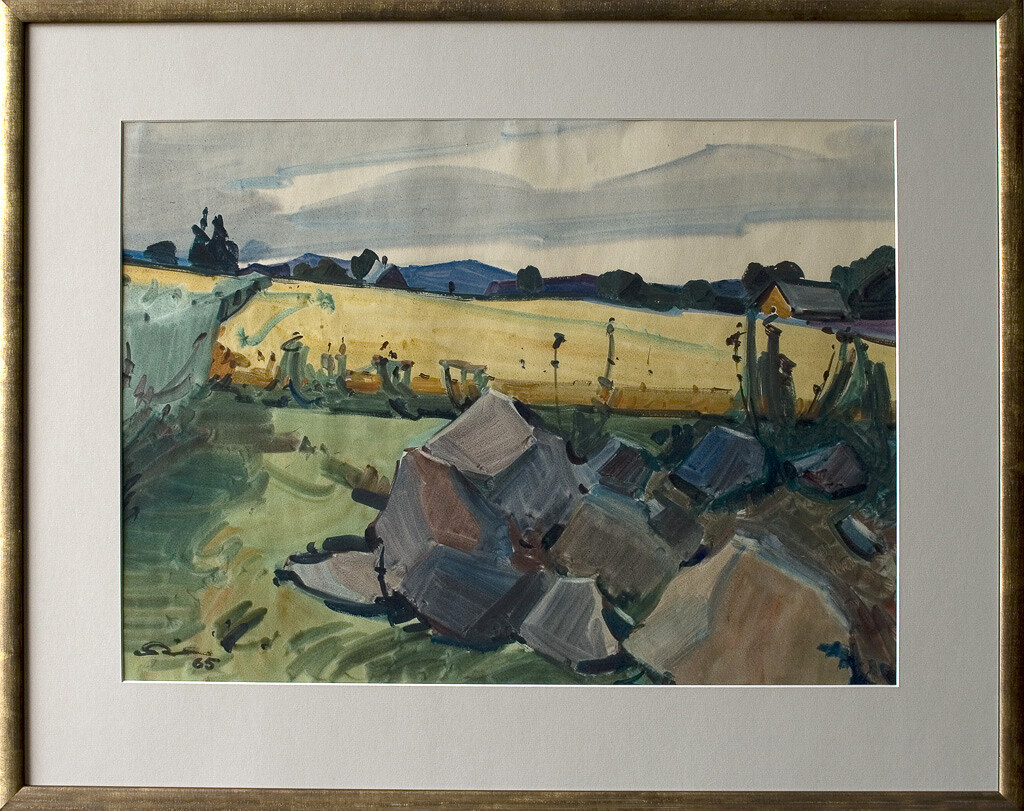 "Kohtla-Järve motiiv"
1965
VKG collection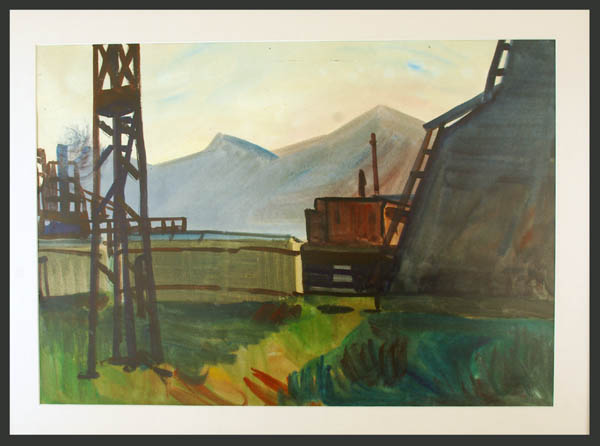 "Oil industry"
1966
VKG collection
Ülo Teder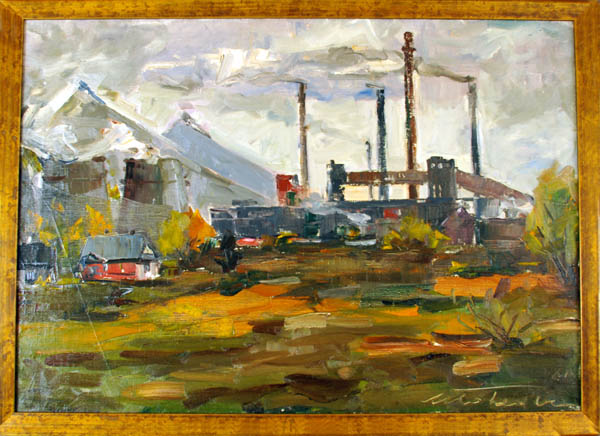 "Industrial landscape"
1960
VKG collection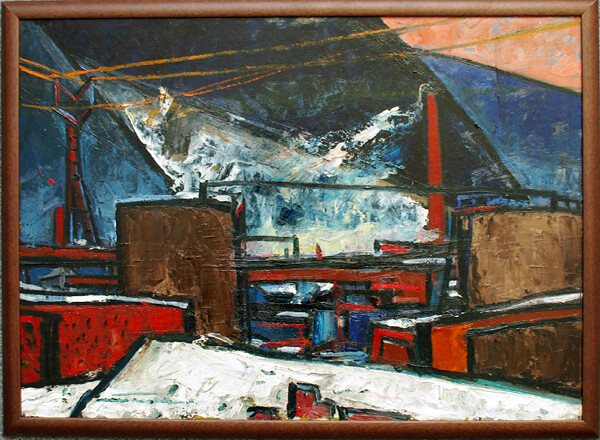 "Industrial landscape"
1966
VKG collection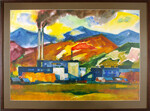 "Industrial landscape"
1980
VKG collection
Evi Tihemets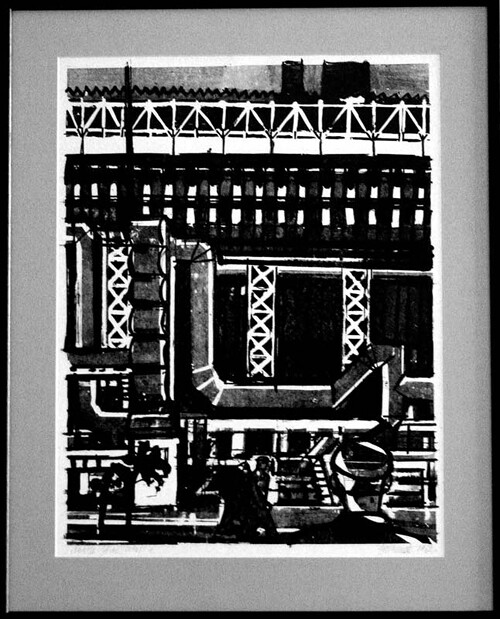 "Motive of Kohtla-Järve"
1962
VKG collection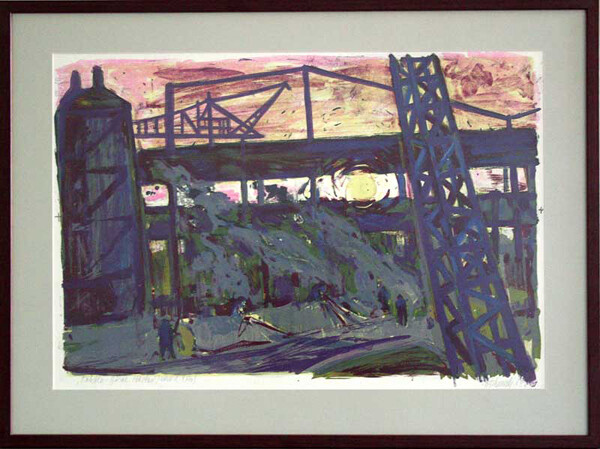 "Industry of Kohtla-Järve"
1963
VKG collection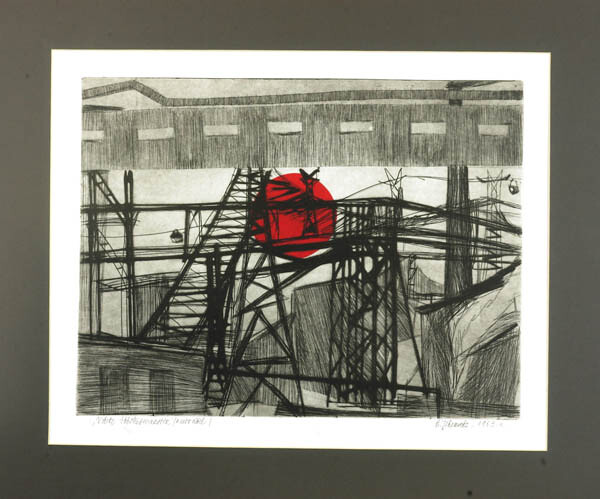 "Small industrial landscape"
1963
VKG collection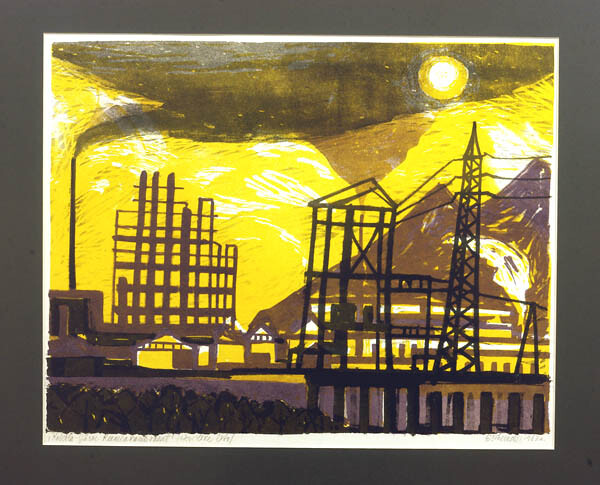 "The Kohtla-Järve Chemical Plant"
1963
VKG collection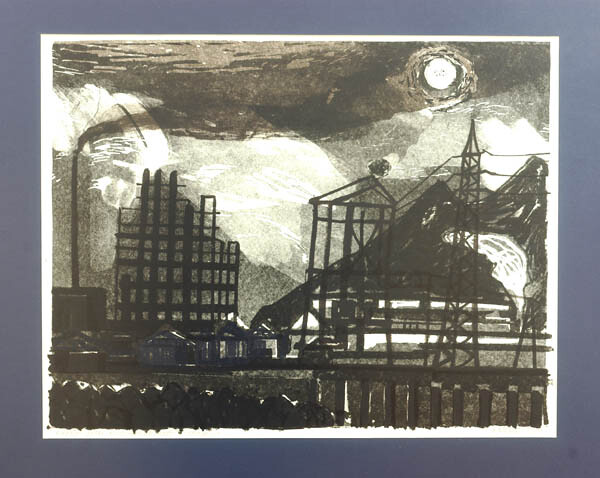 "The Kohtla-Järve Chemical Plant"
(unfinished)
1963
VKG collection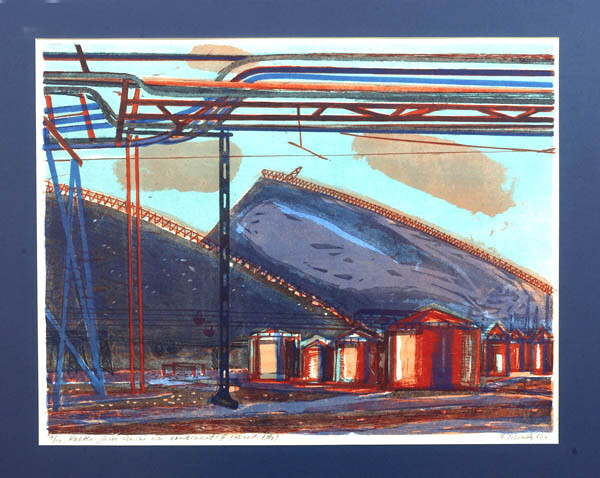 "The Kohtla-Järve V.I. Lenin Oil Shale Processing Plant II"
1963
VKG collection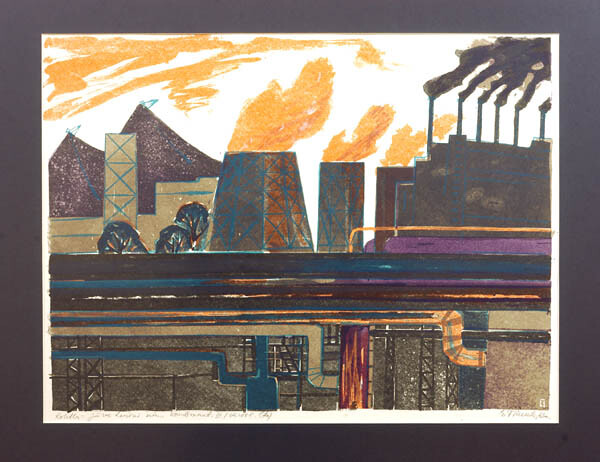 "The Kohtla-Järve V.I. Lenin Oil Shale Processing Plant III"
1963
VKG collection
"Kohtla-Järve"
1965
VKGcollection
Richard Uutmaa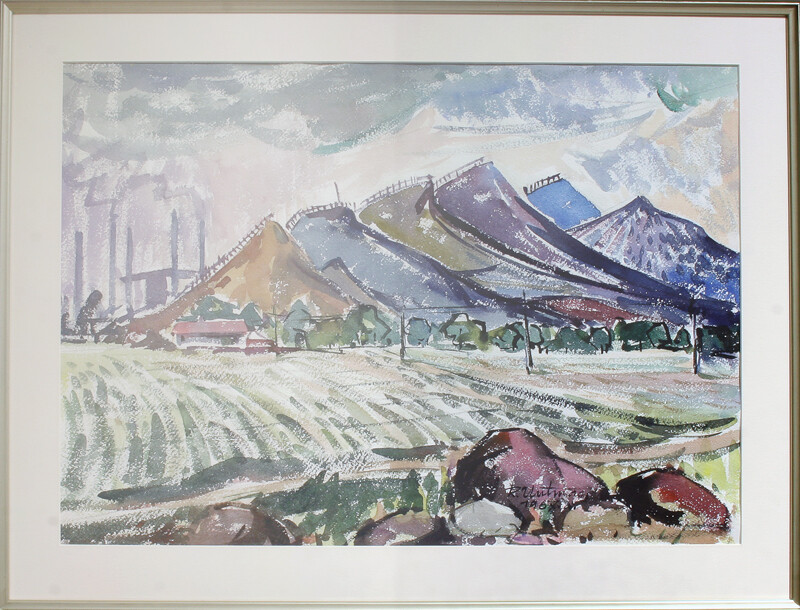 "Kohtla-Järve"
Materials: oil, canvas
1967
VKG collection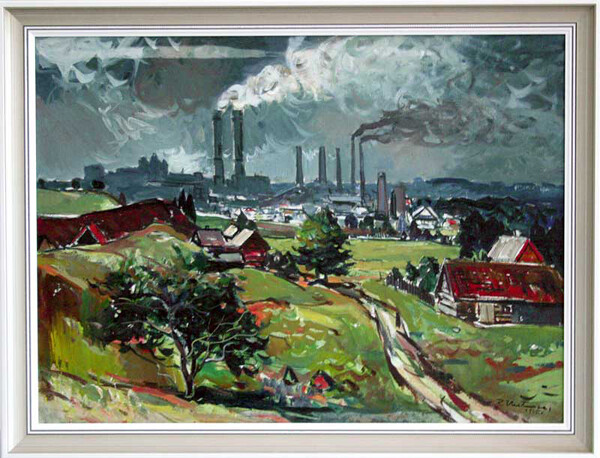 "Kohtla-Järve"
Materials: oil, canvas
1965
VKG collection